Standings 2022, Aquila Formula 1000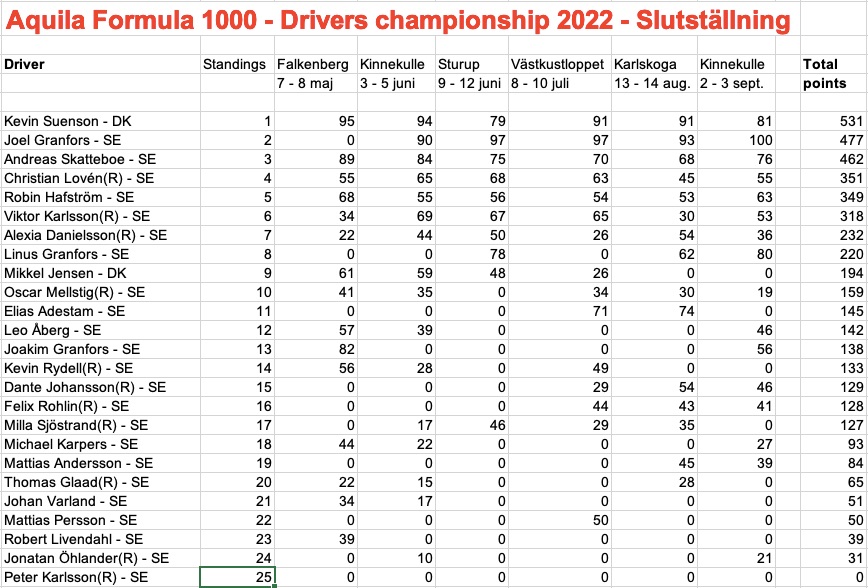 Points
This is how the point allocation looks in Aquila Formula 1000: 25-22-20-18-16-15-14-13-12-11-10-9-8-7-6-5-4-3-2-1.
To get points, you must have completed at least 75% of the winner's laps. A driver who is disqualified receives no points. In the qualification you also get points according to the above points scale. So if you are, for example, third in Quali you get 20 points.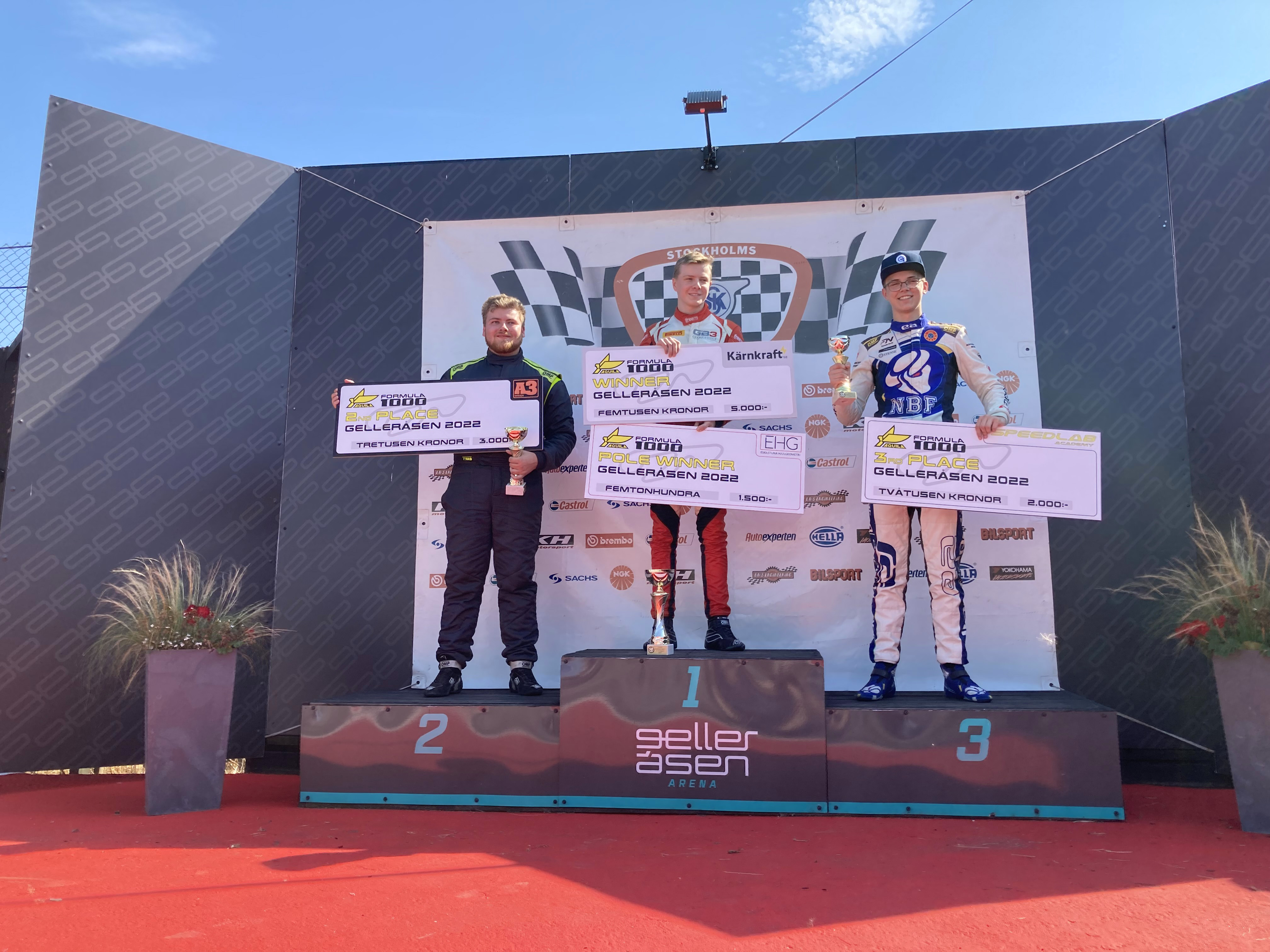 The close fights continues
It was another great weekend when the SSK series ran its 5th race of the season at Gelleråsen. All the heats were nerve-wracking showdowns between Joel Granfors (the weekend's best scorer), Kevin Suenson, Elias Adestam, Andreas Skatteboe and Linus Granfors. To understand how even it was, it can be mentioned that Joel took this weekend's Pole while Kevin Suenson set a new track record in race 2 at 1:15.289! Elias Adestam showed rarely seen determination and toughness as he repeatedly braked his way up to 1st place during the braking after the straight. A place that the others immediately challenged and reclaimed. Linus Granfors unfortunately disappeared from the top fight for the weekend's best points picker when his engine gave up in race 3, while lightning fast Andreas Skatteboe didn't quite make it all the way this weekend and ended up just off the podium. Another one that should be mentioned is Robin Hafström who gradually increased his speed as the weekend progressed and was involved in fighting for really advanced positions in race 3 where he ended up in a very honorable 5th place!
Results
Race 1: Kevin Suenson, Linus Granfors, Elias Adestam
Race 2: Joel Granfors, Kevin Suenson, Linus Granfors
Race 3: Joel Granfors, Kevin Suenson, Elias Adestam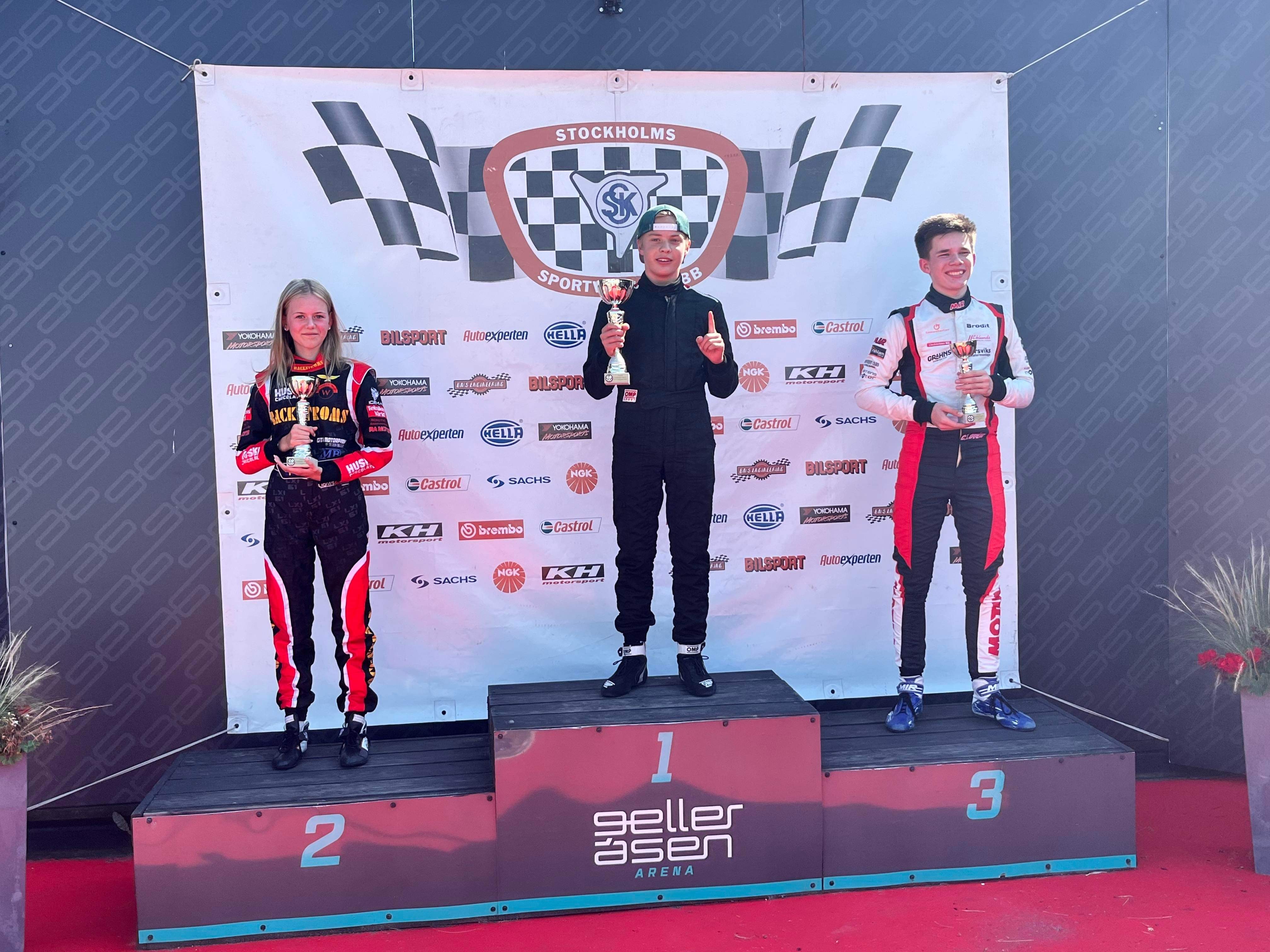 Close in the Rookie class!
We had to come up with a photofinish to separate our top rookies this weekend! Dante Johansson won, exactly, just ahead of Alexia Danielsson on the same score (Dante had a slightly better result in race 3 where he beat Alexia by 4 hundredths!!). The two rookies who are fighting for the victory in the overall league, Christian Lovén (became rookie third during the weekend) and Viktor Karlsson, had a slightly more difficult time. Christian came to Gelleråsen with a new engine, but couldn't really get it up to speed and instead had to drive with a spare car, which ruined his weekend. Viktor Karlsson started brilliantly and was 6th in race 1, but crashed in race 2 and got no points and in race 3 the car didn't want to go as it should so it was another DNF for Viktor. What a dissapointment!
Another rookie who deserves to be mentioned is Felix Rohlin, who has only run two races. Slowly but surely he taps into the top and brushes off tenth after tenth. It will be exciting to follow Felix in the future!
Results
Rookie 1: Dante Johansson
Rookie 2: Alexia Danielsson
Rookie 3: Christian Lovén